The Reality of Bradford's 100% Commission Structure
If you could make $20,000 more dollars just by switching real estate brokerages, would you do it?
Be Treated Like An Entrepreneur
How was Kassandra able to make more at Bradford Real Estate? An imperative part of our mission at Bradford is to provide a pathway to success for all our real estate entrepreneurs, regardless of experience or business model, which is why we offer 100% commission with non-competing Principal Brokers in both of our offices in Nashville and Franklin.
You did the work, so you keep the commission! 
We believe it's in our agent entrepreneurs' best interests to keep 100% of sales commission in order to grow their business by reinvesting in the tools needed to achieve their goals. Below is a cost analysis example how the Bradford Entrepreneur Plan compares to a Nashville brokerage using the traditional model.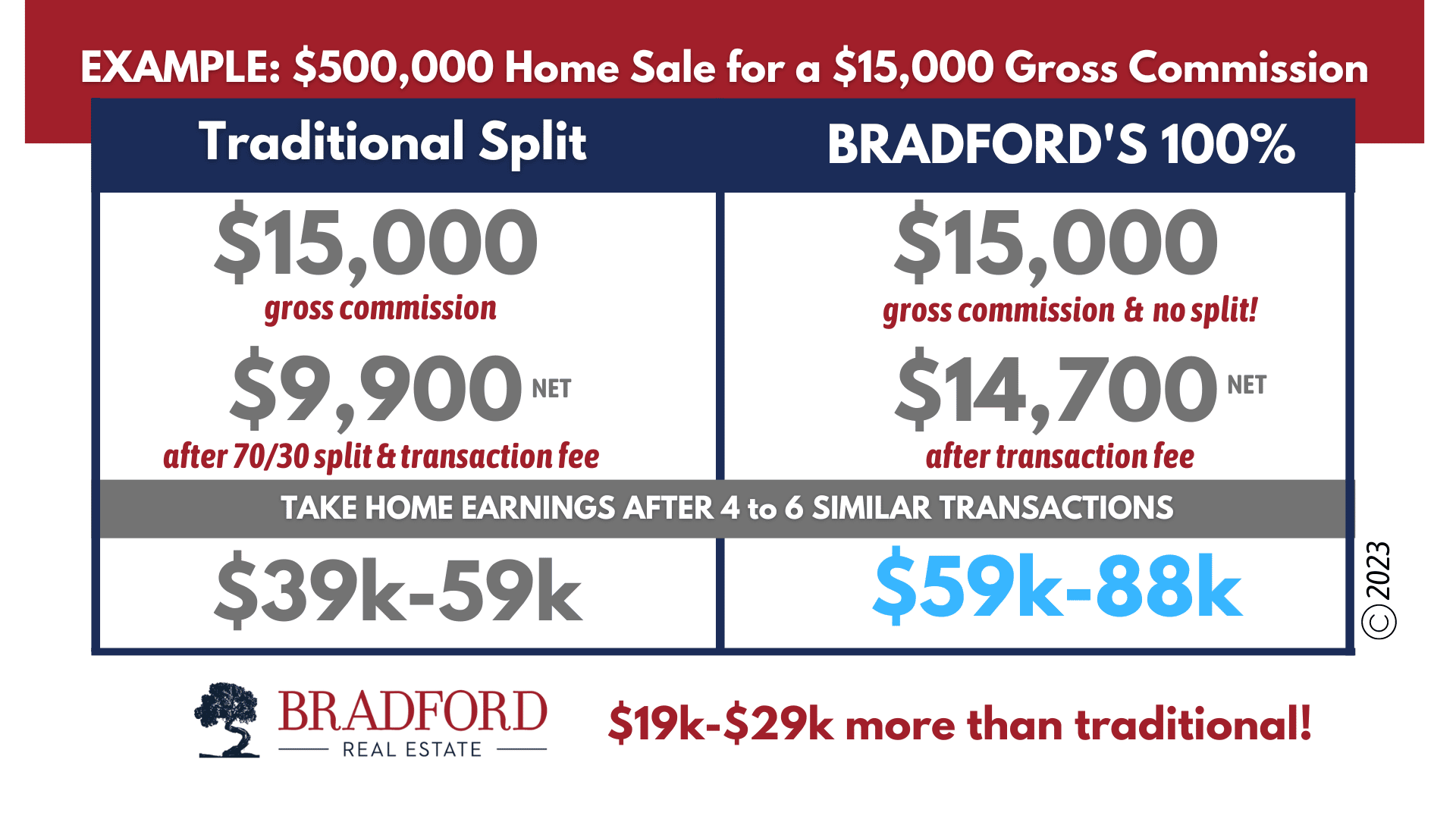 While other brokerages take a significant percentage of every transaction you perform, at Bradford, we believe you are entitled to every single penny (or grand) you earn! Our low transaction fee is mainly to keep the office (open 24/7) fully stocked and operational for your business.
With the additional income, our real estate professionals can reinvest that money into their business, such as Kassandra, who made the switch to Bradford and now is leading her own team and making an additional $10,000 + a year!
Boost Your Bottom Line & Surpass Your Goals
Whether you subscribe to the age old saying "You have to spend money to make money" or not, everyone can agree that you can't spend any of the money that you relinquish to your broker. It's just lost revenue.
It's a simple financial decision that every REALTOR® looking to grow their business should consider. Not only does 100% commission help your bottom line, but you are also saving time as well. Instead of trying to perform at an unattainable level to hopefully make more money, at Bradford you can set realistic and manageable career goals and be met with the support and encouragement needed to reach your milestones.
How would you spend all your extra income? Put it toward the business? Take a vacation? Buy a boat? An investment property?
If you're interested in making the move from agent to entrepreneur, we're eager to meet you at either one of our offices in Nashville or downtown Franklin. Simply complete the form below and we'll be in touch with you soon!